Discover the striking beauty of Provence at this world-class luxury hotel and French gastronomic destination.
P R O V E N C E With a spectacular setting which once inspired Impressionist artists such as Cézanne and Van Gogh, the 5-star Baumanière Les Baux de Provence is a luxurious escape hidden amidst the rocky outcrops and rolling vineyards of the Provence region. One of the first Relais & Châteaux properties in the world, the estate is a favourite discreet hideaway of celebrities, royals and gourmands looking for 2-Michelin-starred gastronomy, luxury boutique accommodation and heavenly spa indulgence.
Baumanière Les Baux de Provence boasts a rich history as a family-run hotel, nestled at the foot of Les-Baux-de-Provence – one of France's most beautiful UNESCO World Heritage listed hilltop villages. Raymond Thuilier first established L'Oustau de Baumanière in in 1945, transforming a Provencal farmhouse into an acclaimed three Michelin-starred restaurant and elegant country inn which attracted the world's best-known names. In 1969, Raymond's grandson – the current owner and Head Chef Jean-André Charial – joined the family business, and they worked together over the subsequent decades to expand the hotel into a 5-star luxury hotel and culinary haven, playing host to an illustrious guest list such as the Queen Elizabeth, Jacques Chirac, Robert de Niro and Paul McCartney. Since his grandfather's death in 1993, Jean-André and his wife Geneviève continue to manage the estate and maintain the family's tradition of discreet, unostentatious service, culinary excellence and French savoir-faire. The hotel recently celebrated its seventieth anniversary in 2015.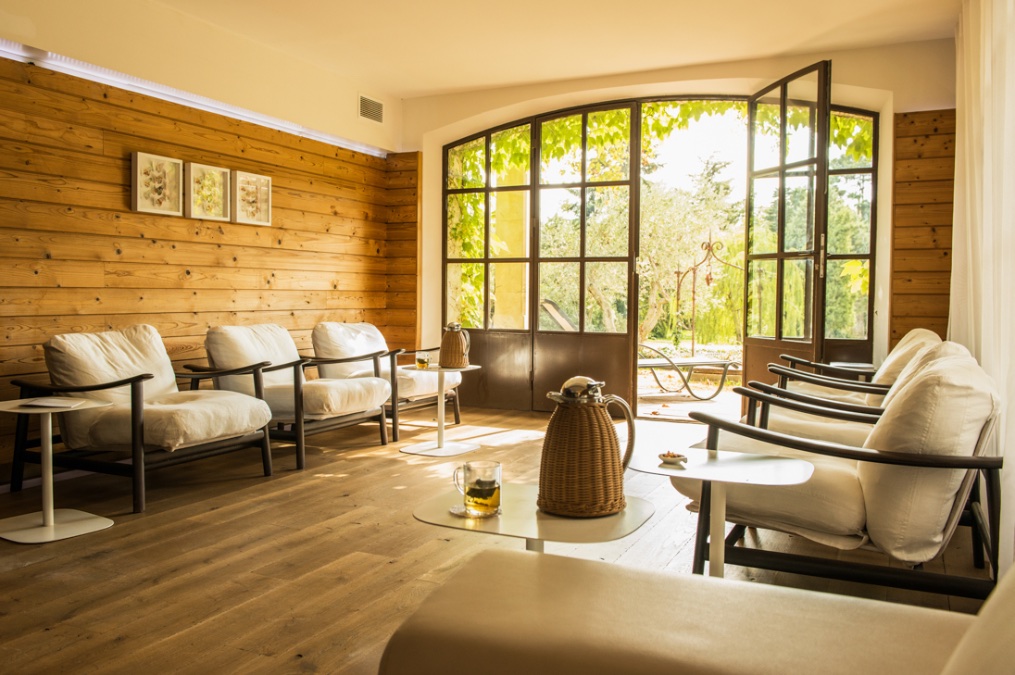 Offering a contemporary take on the classic Provençal country house, the hotel's luxurious accommodation is spread across a series of ancient farmhouses throughout the estate – some dating as far back as the sixteenth century. The stylish rooms and suites feature grand fireplaces, king-sized beds and ornate antiques. "In order to keep the soul and authenticity of the Provence region, we've worked with local antique dealers, craftsmen and artists in the decoration of Baumanière", explains Geneviève Charial. Open the windows and you'll be intoxicated by the fragrant smell of wild roses which climb along the buildings' sun-drenched facades. Spend your days lounging by one of hotel's three outdoor swimming pools, or head to the tennis court or fitness centre if you're feeling more active. The estate's spectacular verdant gardens offer the ideal place to stroll, settle in with a good book or simply enjoy the peace and tranquility. For complete relaxation, the state-of-the-art Spa Baumanière awaits. With sliding glass doors opening onto lush gardens, the luxurious spa offers an extensive menu of excellent facial and body treatments in partnership with Sisley Paris – the prestigious French cosmetics and beauty company – and the exclusive Une Olive en Provence French skin care range, based upon the soothing, anti-oxidising and energising properties of Provencal olive tree flowers, leaves and fruit. Spend an afternoon soaking in the Spa's sensory pool after a signature Sisley Phyto-Aromatic Hydrating Facial, or an energising Thai Reflexology session, then stroll along the deck to unwind on a shaded sun lounge surrounded by century-old trees.
"the light of provence casts a magical spell over the domaine at sunset."
Jean-André Charial
Foodies will be in their element at the Baumanière Les Baux de Provence, where a haven of gastronomy awaits at the hotel's two celebrated in-house restaurants. The two Michelin-starred L'Oustau de Baumanière is the jewel in the estate's crown, which showcases the rich flavours and colours of the region, along with organic vegetables grown in the hotel's garden. "Our cuisine reflects the richness and quality of the products you can find in Provence, including olive oils, local wines and amazing vegetables. We are also well known for owning the second largest wine cellar in France", explains Jean-André. From the à la carte menu, savour refined and exquisite dishes such as blue lobster with warm tarragon vinaigrette; monkfish poached in seaweed milk served with iodised condiments and carved cauliflower; or milk fed leg of lamb studded with garlic and anchovies accompanied by the sumptuous "Baumanière traditional" Dauphinois gratin. For the complete culinary experience, indulge in the immersive tasting menu experience accompanied by excellent local vintages from the hotel's accomplished cellar – and be sure to dine beneath the ancient trees on the candlelit terrace. The hotel's second restaurant, La Cabro d'Or, is presided over by chef Michel Hulin and is renowned for its superb seasonal Provençal cuisine and its magnificent garden terrace, which brings to mind a sunlit Tuscan retreat. Enjoy an indulgent breakfast or a gourmet long lunch beneath its elegant parasols.
To commemorate the arrival of spring, Baumanière Les Baux de Provence is launching a rich program of seasonal events, ranging from cooking classes for lovers of gastronomy with the hotel's Executive Chefs, Jean-André Charial or Bernard Chatton, to an exclusive wine tasting experience of the finest French wines from the Baumanière's cellar, recognised as one of the most prestigious private wine cellars in France with over 60,000 bottles. For those in search of adventure, the picturesque ancient streets surrounding the hilltop Château des Baux lie only a short walk away, while at the spectacular Carrières de Lumières, masterpieces inspired by the surrounding landscapes are projected onto the walls of a former quarry. Whether you choose to venture beyond the verdant grounds or simply immerse yourself in the serenity of the Baumanière Les Baux de Provence, expect worldly cares to melt away as you rediscover a gentler pace of life.
D27, 13520 Les Baux-de-Provence, France
+33 4 90 54 33 07 | oustaudebaumaniere.com
O T H E R T R A V E L I D E A S . . .
O U R C I T Y G U I D E S . . .