Discover Miami Beach's new jet-set playground at the Faena District, a powerhouse of international arts, culture & luxury living.
M I A M I B E A C H Legendary Argentinian hotelier and property developer Alan Faena is a man used to breaking new ground. He founded his own fashion label, Via Vai, at 19 years of age, then over a decade later, redefined the benchmark of luxury hospitality in Latin America by transforming Buenos Aires' derelict Puerto Madero docklands into one of Latin America's hottest destination hotels, residence and cultural quarters.
Now, together with his billionaire business partner, Len Blavatnik and his wife, Ximena Caminos, Faena has set his sights on Miami Beach, with a radical vision to create an urban Utopia in collaboration with the world's leading creative minds called the "Faena District" – an extraordinary $1.2 billion project enveloping eight blocks of prime oceanfront real estate along Collins Avenue in Mid-Miami Beach. Here, you'll find the beachfront Faena Hotel Miami Beach – a world-class luxury hotel, dining and nightlife sanctuary designed in partnership with Academy Award-winning husband and wife duo, Australian film director Baz Luhrmann and costume designer, Catherine Martin; the Faena Forum – a breathtaking 4,600-square-metre arts and performance space designed by Pritzker Prize-winning architect, Rem Koolhaas/OMA; the Faena Bazaar – a retail shopping centre set within the restored 1930s Atlantic Beach Hotel; Faena House – the exclusive private condominium tower designed by top British architects, Foster + Partners; also the Casa Claridge boutique hotel, and two other potential condominium/hotel development projects currently earmarked as Versailles Classic and Versailles Contemporary.
We reveal the five reasons why you should be planning your next trip to Miami's hottest new arts district ...
1. THE HOTEL...
F A E N A M I A M I B E A C H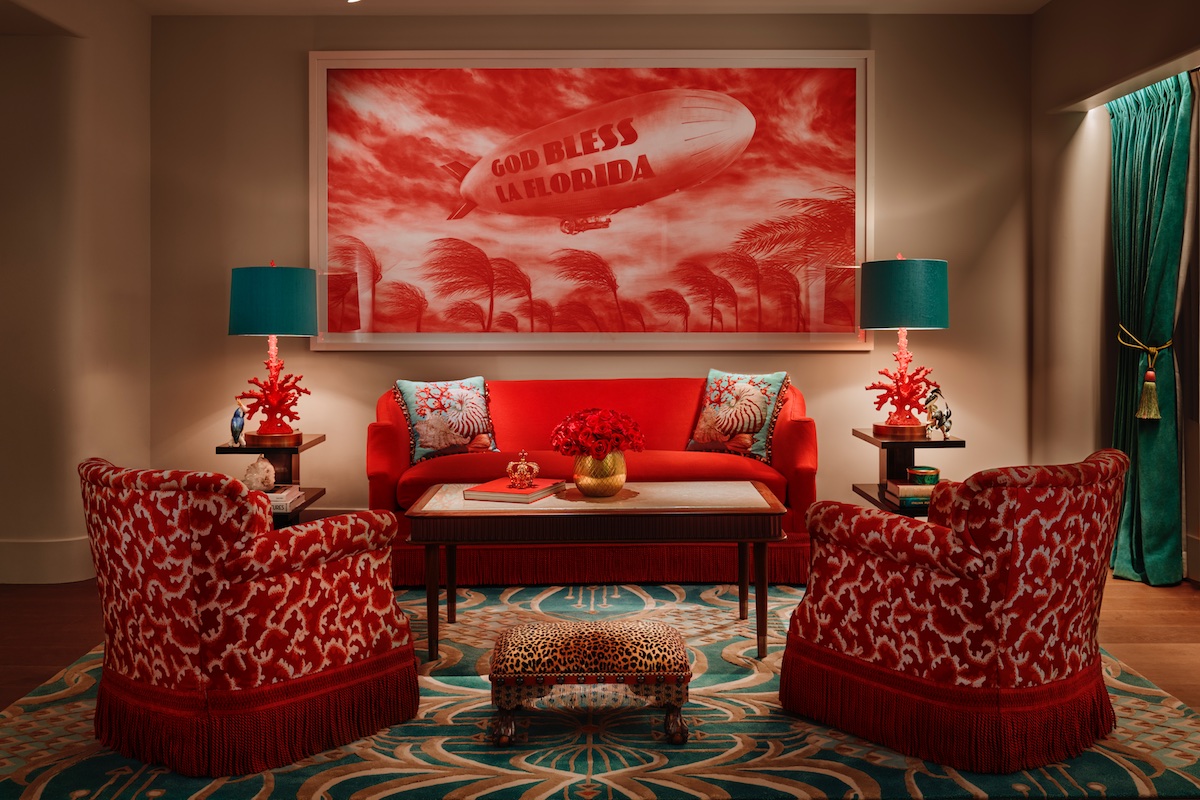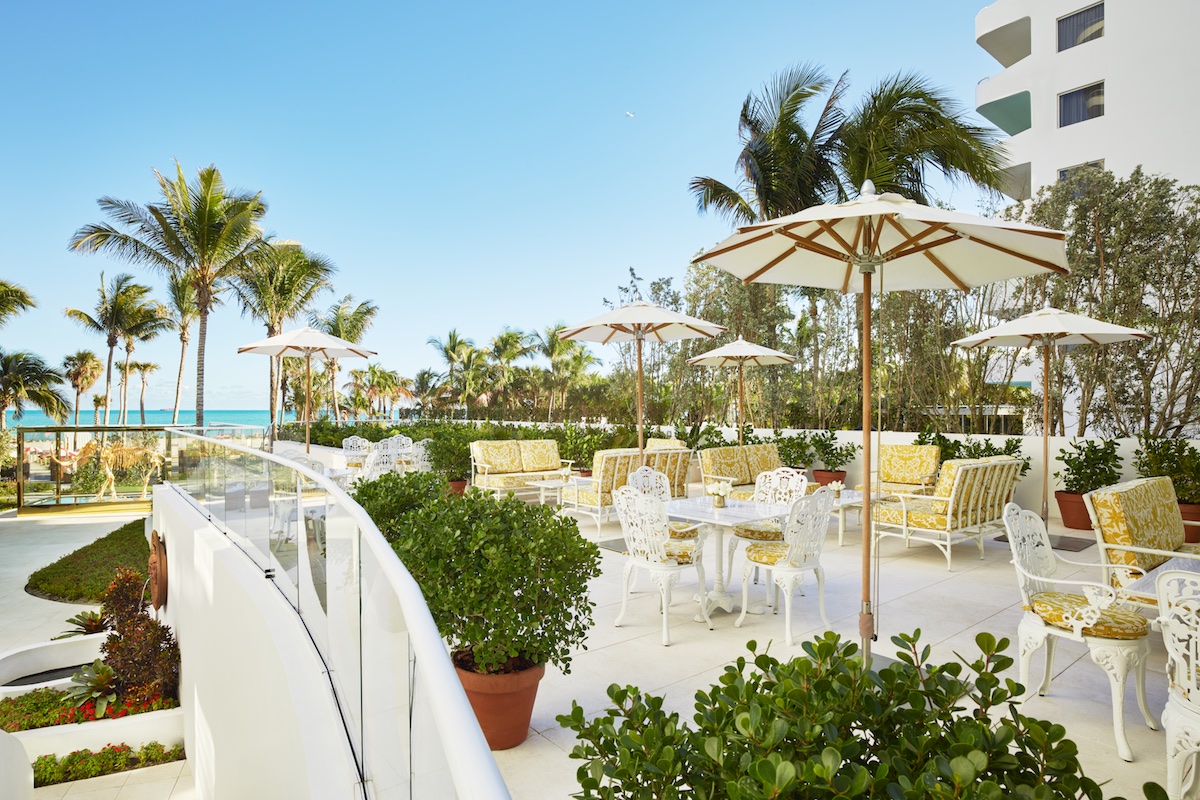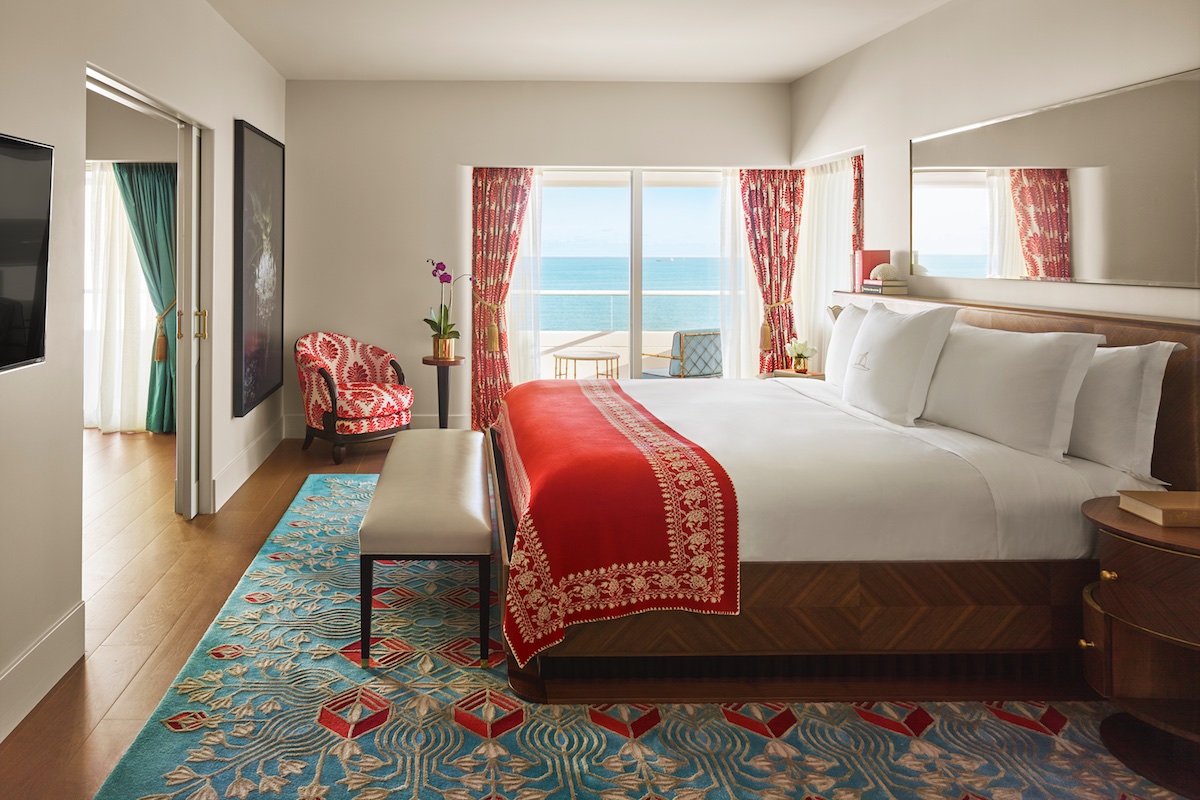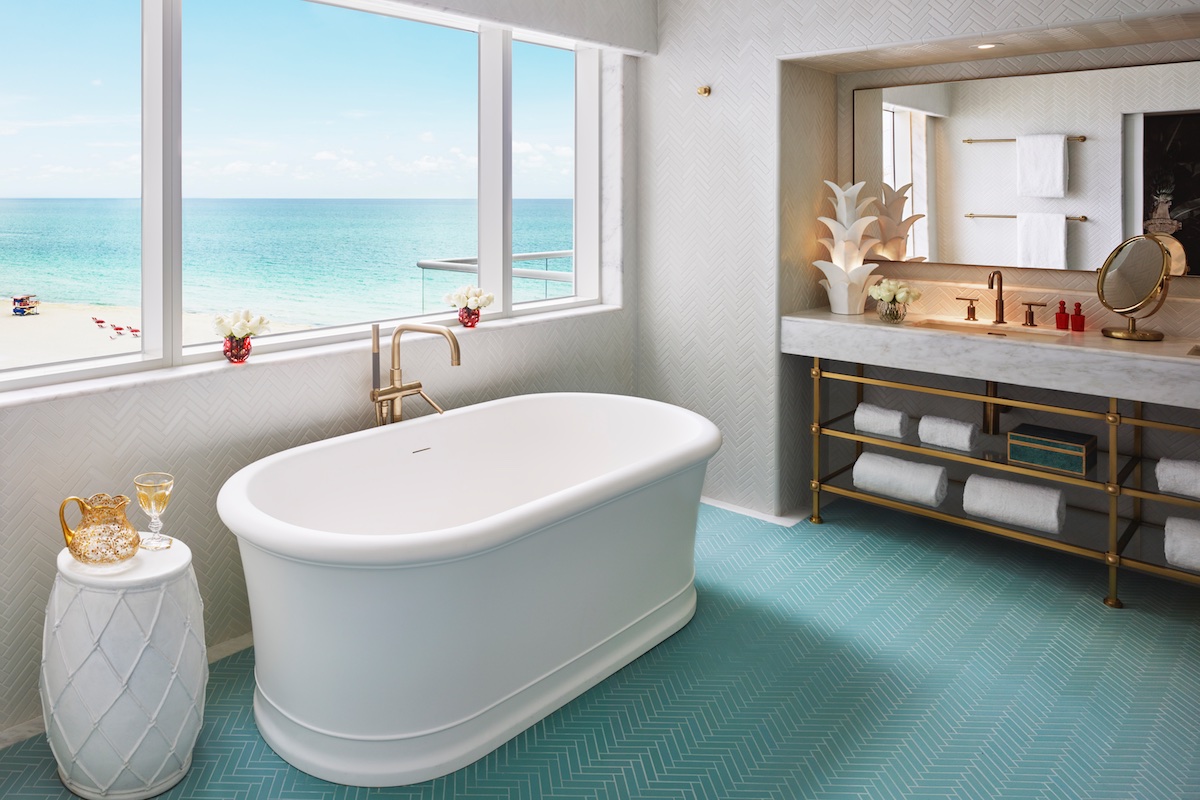 A H O T E L L I K E N O O T H E R The glamorous age of 1950s Miami returns in all its glory at the Faena Miami Beach, where an intoxicating air of theatrical grandeur awaits around every corner. A master collaborator, Alan Faena called upon visionary Australian Film Director Baz Luhrmann (Moulin Rouge, The Great Gatsby) and his wife, Oscar-winning costume designer Catherine Martin, to oversee the hotel's interior design. In the 'Cathedral' – the hotel's show-stopping lobby – gold-leaf ceilings and vast murals by Juan Gatti hint at the hotel's cutting-edge art collection, while the ocean glitters beyond a vast wall of glass. From the moment you arrive, expect to be spoiled by one of the finest hospitality experiences in the city; from the warm and professional front-desk team, to the 24/7 private butler assigned to cater to your every need – at any time of the day or night. Another luxurious bonus is the complimentary fleet of Mercedes Benz, which will be on call to take you anywhere within one mile of the hotel, or to borrow for the day. Designed in a refreshing palette of bold reds and soft blues, the hotel's 169 rooms and suites offer a wealth of luxe amenities such as bespoke Italian linens, Carrara marble bathrooms and free-standing bathtubs, where an air of 1950s retro glamour spills out onto the oceanfront balconies. Make sure to spend the afternoon relaxing poolside beneath a red and white striped parasol, or head to the pristine Faena Playa beachfront to lounge by the turquoise Caribbean sea.
2. THE SCENE...
F A E N A M I A M I B E A C H
D I N I N G & N I G H T L I F E Home to five glamorous bars and restaurants, the dining and nightlife offerings of the Faena Miami Beach pay homage to the timeless Hollywood glamour of yesteryear, where evenings may begin in the glamorously low-lit Saxony Bar with its DJ sets and old-world allure, or the cosy Living Room with its plush couches, softly glowing lamps and live music. Don't be surprised if you see a familiar face or two in the truly exclusive, Art Deco-inspired speakeasy El Secreto, which has already attracted the likes of Leonardo Dicaprio and Madonna – however, you may need to call in a favour to gain access. Dine at the glamorous Pao by Paul Qui restaurant, where a $6 million gold-leaf unicorn by world-famous artist Damien Hirst towers over the curved leather banquettes and a menu of inspired modern Asian cuisine hints at the Filipino origins of Pao's award-winning chef, Paul Qui. At Los Fuegos, legendary Argentine chef and grill-master Francis Mallmann introduces the art of South-American asador cuisine to Miami Beach – this is also our favourite place in Miami to enjoy a sophisticated breakfast experience in style.
3. The Spa...
F A E N A M I A M I B E A C H
T H E U L T I M A T E R E L A X A T I O N Whether you're in search of a tailor-made facial, private yoga class, relaxing manicure or purifying hammam experience, the Tierra Santa Healing House boasts 22,000 square feet of space dedicated to pure relaxation. Inspired by South American healing culture yet showcasing the latest technology, Terra Santa's range of Shaman-developed body-healing rituals offers an immersive well-being experience using the renowned Biologique Recherché skincare line. Unwind completely with a Tierra Santa Deep Tissue massage, which uses warm babassu butter from Brazil, or opt for a Hyper Customized Facial to experience a treatment meticulously tailored to your skin. Create your own bathing ritual in the futuristic Wet Spa Area as you choose from Tierra Santa's range of hand-blended, plant-based muds, scrubs and oils to rejuvenate the body and calm the mind. Alternatively, let your therapist cleanse and purify your skin during the Hammam Rose Ritual, where you can relax on warmed marble before enjoying a luxurious full body massage in the steamy private hammam.
4. The ArtS & CULTURE...
F A E N A M I A M I B E A C H
F A E N A F O R U M
C U T T I N G - E D G E Art and culture lies at the heart of the Faena District's unique vision, curated by creative mastermind, Ximena Caminos – the Art Director and Chair of Faena Art, which oversees the Faena District's rich arts and cultural programming. Like a cutting-edge art museum, the hotel's living spaces are filled with works by the world's leading artists – a golden unicorn by Damien Hirst draws all eyes in the hotel's celebrated Pao by Paul Qui restaurant, while his golden skeleton of a woolly mammoth is the show-stopping centrepiece of the hotel's beachfront terrace. An installation by artist Amaya Bouquet awaits discovery in the secret garden, an 18-foot Jeff Koons sculpture greets guests in the courtyard, and sculptures and fountains by Studio Job offer a playful nod to Faena's own signature accessory – the white fedora. Alongside this museum-worthy art collection, a rolling program of visiting artists means there's art waiting to be discovered around every corner. Across the road from the hotel, the Faena Forum is a stunning world-class arts and culture centre which invites leading artists, filmmakers and creators to collaborate and blur the traditional boundaries between art and performance. The Faena Forum's program includes a series of inspiring Soledades – one-off cultural experiences such as groundbreaking philosophy lectures, live music performances, poetry recitals and fascinating scientific discussions – and has showcased monumental murals by Argentinian artist Graciela Hasper, and Jim Denevan's intricate solar-powered light display on the sands of Miami Beach. A catalyst for creativity that seeks to transcend the traditional boundaries of art, music, science and philosophy, the Faena Forum is much more than an art gallery – it's a "Utopian place" in which to gather, exchange ideas, learn, discuss and discover.
5. The THEATER...
F A E N A M I A M I B E A C H
L I V E P E R F O R M A N C E Like the grand opera houses of Europe, a seductive world of scarlet and gilt has been created by Australian film director Baz Luhrmann at Faena Theatre, a private 150-seat performance space nestled within the Faena Miami Hotel. The theatre stages a thrilling weekend cabaret show, C'est Rouge!, featuring a live band which enchants with jazz and Latin-American rhythms, while the spectacular choreography of Blanca Li dazzles as a variety of eye-raising performers take to the stage in two spectacular acts. Watch as dancers sashay through the crowd, acrobats draw gasps of amazement and burlesque performances set pulses racing. Faena Theatre also welcomes a rich program of world-class musicians to its stage, including legendary artists such as Caetano Veloso, Gilberto Gil and Seu Jorge.
Faena Miami Beach: 3201 Collins Avenue, Miami Beach, FL 33140
+1 305-534-8800 | faena.com/miami-beach
F O R M O R E O N M I A M I . . .

MIAMI CITY GUIDE
The Ultimate City Guide
Discover our highly selective shortlist of the best hotels, restaurants, nightlife, culture and things to do in Miami right now.
Y O U M I G H T A L S O L I K E . . .
D I S C O V E R O U R C I T Y G U I D E S . . .