globe-trotter
Handcrafted Luxury Luggage | London
GLOBE-TROTTER IS A PRESTIGIOUS BRITISH COMPANY WHICH HAS BEEN HANDCRAFTING EXQUISITE LUXURY LUGGAGE since 1897 for clients such as H.M. Queen Elizabeth II, sir winston churchill and kate moss. WE CATCH UP WITH GLOBE-TROTTER CHAIRMAN, JEFF VAUGHAN, TO FIND OUT what makes globe-trotter's made-to-order luggage collectionS so special.
As a brand with a very rich heritage, what is the background of Globe-Trotter and when was the brand initially conceived?
JV: At the time of Globe-Trotter's birth, travel was a grand adventure. With long and extensive trips being the norm (The Grand Tour e.g.), families of stature typically travelled with many trunks and bespoke travel cases - these of course were carried by servants and porters. The interior of these cases were constructed with wooden compartments, often covered in fine silk or leather. The key function of such pieces was to provide comfort and convenience and at that time, Globe-Trotter created many wonderful travel trunks designed to transport the lives of their owners in safety and elegance. As we moved into the mid-20th century and commercial airline travel became more prevalent, the emphasis for luggage makers moved into weight and strength. The core of a Globe-Trotter suitcase is our unique Vulcan Fibre from which it is constructed, which is incredibly light and strong. As the requirements of the traveller evolved, so our cases were perfectly suited to evolve with it, becoming simpler in construction to conserve weight yet retain their aesthetic and core strength. Nowadays, Globe-Trotter is experiencing a new era of evolution as shorter, faster and more varied forms of travel demand a myriad of smaller purpose-designed product ranges.
What is the philosophy of the brand?
JV: Since its birth in 1897, the brand's philosophy has been a simple one; never to compromise the integrity of the craftsmanship. Synonymous with great British design, the name 'Globe-Trotter' is the very definition of handmade luxury luggage and leather goods. A modern day classic, Globe-Trotter suitcases are uniquely strong yet lightweight, functional yet with an iconic aesthetic.
As Globe-Trotter cases spend their years travelling the world with their owners, they develop a unique character and charm, and simply get better with age. The leather collections follow this same rule and ethos. The core design philosophy within Globe-Trotter has always been "Simple Elegance". This means that we strive to create collections that are minimal with simple flowing lines and no unnecessary bells and whistles. The core of our DNA is travel, so our product design is rooted in this concept - but travel, of course, is about mobility and not merely sitting onboard an aircraft. We travel to and from work, or to the theatre or restaurant. So at Globe-Trotter, we think about mobility, i.e., how do we carry our treasured possessions in comfort and safety, but above all else, with elegance.
Can you tell us more about your product range? What are some of the brand's most emblematic creations?
JV: At our heart lies the iconic suitcase for which Globe-Trotter is famous. We hope these suitcases will continue and evolve further for another 100 years or so, but we believe that accessories and bag collections will become a very major part of our future. In 2012 we launched the "Jet" collection, aimed at the modern day traveller, based on the same clean, basic lines of our suitcases. This is a range consisting of more than 10 styles of bags and almost 20 different leather goods. In 2014, we followed this with the "Propellor" collection. Propellor celebrates the elegance of travel and is a perfect example of the Globe-Trotter spirit. Most of the collections were inspired by old 1920 and 1930`s styling, but our head designer Charlotte Seddon has done remarkable things to give them a modern twist. Like our suitcases, the leather collections are all made in England at our factory in Hertfordshire.
As your suitcases are made-to-order and are handcrafted in England, can you tell us more about the process as to how each case is constructed, the materials used, etc?
JV: Every Globe-Trotter suitcase is handmade at our factory in Hertfordshire, England using original manufacturing methods dating back to 1897. The suitcase leather division produces the trim first, consisting of handles, straps and corners. Handles are made entirely from beginning to end and straps are cut to size on a guillotine, each stitched on a 1928 harness sewing machine. The iconic Globe-Trotter corners are formed over a period of 5 days on antique Victorian presses so that the leather remains strong enough for decades of travel. Vulcanised fibreboard for the suitcase body is then cut to size and formed by hand. Handles and locks are attached to the vulcanised fibreboard by hand. Each piece of the suitcase is then riveted together along with the leather corners.
An in-house carpenter produces the locally-sourced beech wood frame that is fixed into the lid of each case. The base is then fitted with a lip that is again produced in-house from a roll of steel, ensuring that each suitcase retains its form and rigidity. Finally, the lid is attached to the base and then quality checked before shipping to the customer. Each leather product is both designed and produced in the same Hertfordshire factory. As Globe-Trotter customers expect extreme durability and longevity, each piece is made from design to completion with a focus on strength. Each stress point is double or treble reinforced by stitching, riveting and gluing, using modern micro fibres inside the product to further strengthen the construction. The Globe-Trotter leather factory is not a mass production facility. Each line is made in small quantities by small teams of skilled artisans. The factory boasts three generations of craftsmen with the older, more experienced workers constantly training and supporting their younger apprentices.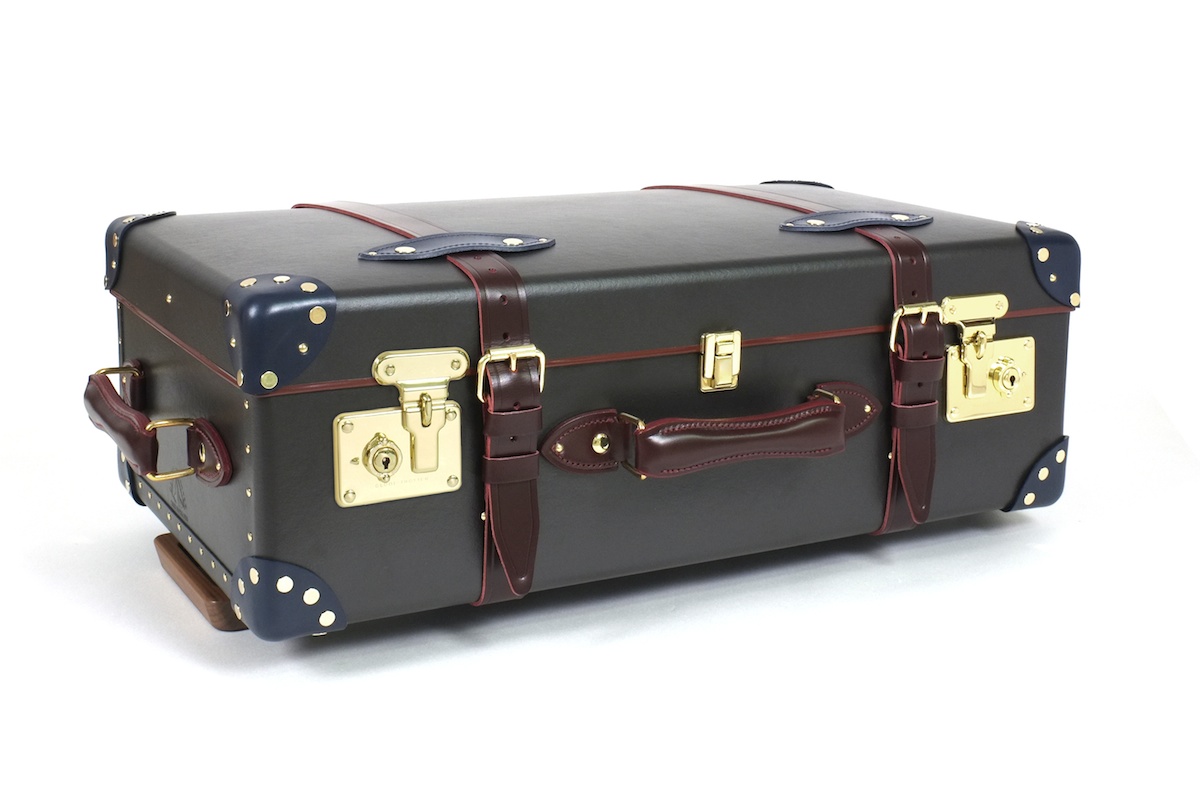 As Globe-Trotter maintains a very prestigious list of clients, can you tell us more about some of the people who have owned your suitcases over the decades?
JV: For over a century, the unique characteristics of Globe-Trotter luggage have been recognised and coveted by many, including some of the world's most influential individuals - H.M. Queen Elizabeth II and Sir Winston Churchill to name but a few, along with modern icons such as Kate Moss, Daniel Craig, David Beckham, Eddie Redmayne, Dita von Teese and many others.
Where can we find Globe-Trotter collections around the world?
JV: Our flagship store is located at 35 Albemarle Street in London. Our other selling points include Harrods, Harvey Nichols (UK, UAE, HK), Selfridges, Le Bon Marché, Corso Como, Beyman, Lane Crawford, Barneys.
What are some of your proudest achievements to date as a brand/ company?
JV: The current management team became interested in Globe-Trotter in 1987, finally acquiring the business in 2002. In 1987, 100 years on from its birth, the company was almost dead. At that time, there were just 12 workers producing a very limited range of exceptional, but simple suitcases with limited markets to sell into. Now in 2015, the factory has almost 100 craftsmen. On a rail basis is "buzzes" with new ideas, leading to numerous new products and new orders. The company is also branching out all over the world. This is our proudest achievement in the "modern history" of the company. Along the way, there have been a great many milestones and exciting projects. In the early days, the company launched successful collaborations with companies such as Colette and Hermès. Our celebrity following continues to grow each year. Later this year, Globe-Trotter has two incredible collaborations launching which must remain secret for now, but are again so very special.
What would you like Globe-Trotter to be remembered for?
JV: Globe-Trotter began as the world's strongest suitcase. It has now evolved into a luxury fashion brand and must now continue its journey to becoming a true luxury lifestyle brand. To achieve this, we must always remember our core DNA of luxury, elegance and strength - these concepts will be taken forward into each and everything that we do. Our new leather collections were over 5 years in the making, everything is made in England in our own factory and we have resisted the easy option of sub contracting our production or licensing our brand. In another 100 years, I hope that future generations will remember that in a crazy, money-led world that Globe-Trotter remained true to its core values, and that we always invested in our heritage and made truly incredible products.
What is next on the horizon for Globe-Trotter?
JV: The last five years has seen significant investment into the brand. Our new production facility is over five times larger than our old workshops, and our new leather collections are becoming established and are continually evolving. Globe-Trotter could never aspire to expand very quickly as each product is genuinely hand-made and the time needed to train craftsmen and expand production cannot be hurried. It has taken us 119 years to get this far, so we are in no great rush. Part of the beauty of Globe-Trotter is that it is somewhat "niche" - you cannot find it everywhere and there are waiting lists on many items. We quite like this fact and do not wish to change the policy. Rather, as production can now increase significantly, we are looking to expand - not by opening many stores or outlets in existing markets, but into new emerging markets that may not yet be familiar with Globe-Trotter as a luxury brand.
O T H E R S T Y L E I N T E R V I E W S . . .