Famous in the 1960s for its chic and easy-to-wear fashion collections, iconic French brand Courrèges has been taken over by two dynamic entrepreneurs who are breathing new life into the company.
With the blessing of Coqueline Courrèges to take over the company that she set up with her husband in 1961, Jacques Bungert and Frédéric Torloting have now been at the helm of Courrèges for the last four years and are restoring the company to its former glory. With a focus upon fashion, fragrances and accessories, the two partners have rolled up their sleeves to ensure sure that Courrèges is back with a bang.
Born in Metz and Nancy respectively, Jacques Bungert and Frédéric Torloting have relished many challenges over the years, always driven by passion and mutual respect. Their relationship goes far deeper than friendship, an alchemy dating back 30 years which is now turning to gold. "My day-to-day motivation is to impress Frédéric, to make him proud so that we can carry on our relationship of trust," reveals Jacques Bungert, for whom this synergy and duality have been absolutely key to the revival of the Courrèges brand. The analogy is striking, as Coqueline and André Courrèges formed a close-knit couple from the very beginning of their company in the 1960s, right up until the 1990s when André retired.
Young, smiley, elegant, athletic and dressed in white, Coqueline and André Courrèges turned the fashion world upside down at the time. Young pop fans, thirsty for change, loved them. When he saw their collection, the one and only Yves Saint-Laurent exclaimed, "it's like a bomb, nothing will ever be the same again after that". It is true that André, a graduate of the École Syndicale de la Couture, revolutionised the fashion scene by offering women well structured clothes that were easy to wear: mini-skirts, trapeze dresses, short jumpsuits, ballet shoes and flat boots. When the glamorous couple left Balenciaga, they gave themselves five years to succeed and managed to pull it off in just two. Years later, when her husband was ill, Coqueline managed the label with the financial support of Japanese distributors keen to hijack the company. Thanks to her strength of character, she resisted these investors, who didn't have the Courrèges philosophy running through their veins.
"At the time, we were in charge of Young & Rubicam France and Madame Figaro's editor-in-chief asked us to write about the concept of "no logo, no brand", explains Jacques Bungert. "We condemned that approach, saying that brands had to be stronger than ever to reassure the consumer. Then Coqueline, who had read the article, invited me to go and see her. When she greeted me, I was quite taken aback by this exceptional woman, in her white dungarees. At the age of 79, she gave off this amazing energy, an unbelievable youth. She asked me point blank to tell her what we really wanted to be and do. The conversation lasted for three hours. Then she invited me for a glass of whisky over a number of Friday evenings to carry on our conversation. Since then, every Friday evening, we have a drink and continue our discussion. And that was exactly how Coqueline handed over Courrèges to us."
In 2011, Coqueline met with all of her teams and announced, "Voilà, I have chosen my successors," before handing over the keys to the new owners, passing on to them "something that couldn't be passed on: our imagination, our arguments, our dreams". "After she left, we found this quote from Gandhi stuck on the desk that she had written: Anybody who chases the past either kills it or is killed by it; and then she had added: be yourselves. A really beautiful legacy," remembers Jacques Bungert. Once the deal was done, the two accomplices got down to work. The first job was to take stock, to decide whether or not to revive the factory in Pau. "We are working in the spirit of Courrèges, with the desire to make sure production is 100% French. If we manage that, we will be able to congratulate ourselves on a successful handover. In a creative environment, this is quite rare. Without Fred, I would never have embarked on this adventure, and I don't think he would have either."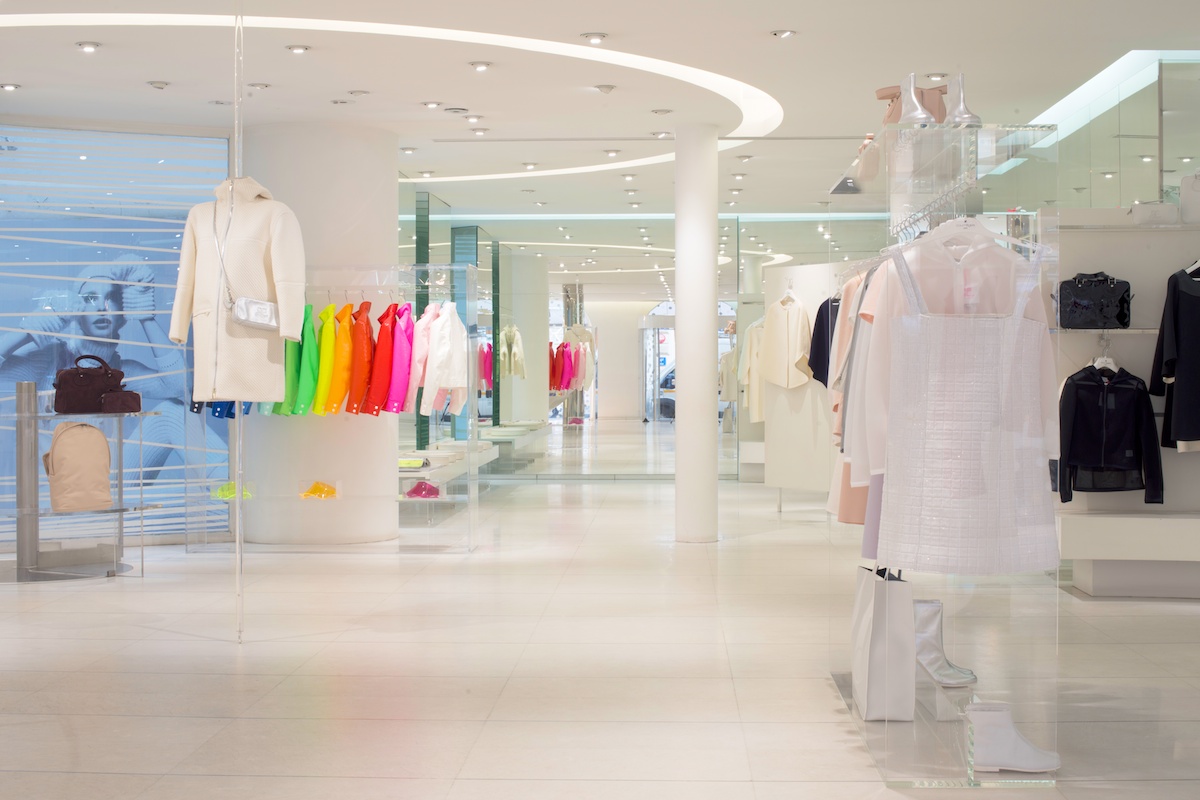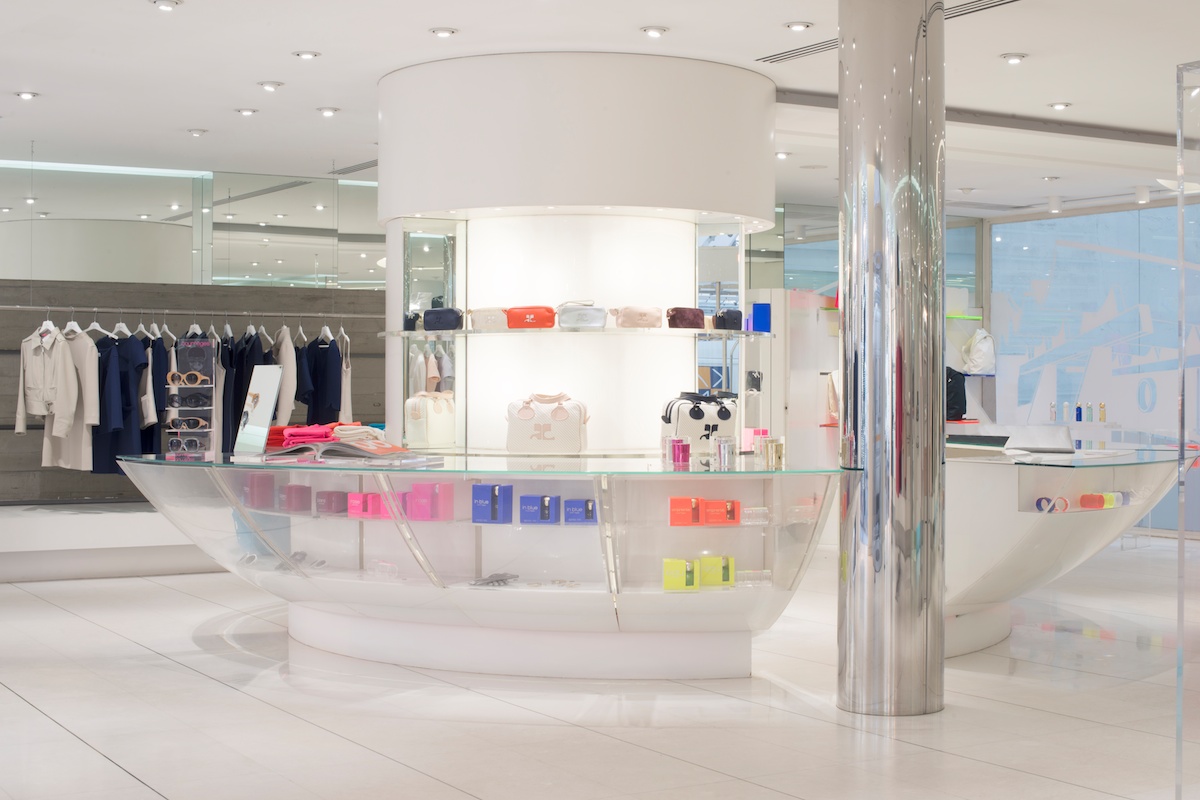 Before getting the fashion world back in shape, Jacques and Fred focused on two key areas: fragrances and accessories, including glasses. This year, the launch of "La Fille de l'air" in partnership with Air France has been a worldwide hit. Thanks to in-flight sales, the fragrance has taken off better than anybody could have hoped for. The glasses collection, designed in collaboration with Alain Mikli, has also been doing well. Other projects, such as a design for an Evian bottle with lifelong friend, Franck Riboud, has raised the brand's profile, and resulted in sales of three million Courrèges bottles. Similarly, the range of thirteen cosmetic products designed for Estée Lauder has given the brand a true presence.
After relaunching the production of iconic clothing, the company is now embarking on an important new phase: the presentation of the collection dreamt up by two recently recruited designers, Sébastien Meyer and Arnaud Vaillant, in October 2015. "Working with them seemed like the obvious choice," explained Jacques Bungert. "They're a pair, like our founders, and also like us, with entrepreneurial experience as they founded their own label. They also have a commercial awareness and a desire to experiment: those are our key values."
Although for now, the two partners refuse to talk about numbers, their early results are allowing them to take this daring gamble: to breathe new life into a label that was revolutionary in its day, and is set to become so once again. "Our imaginations embrace the concept of doubt, as extolled by Antoine Riboud, from Danone, who helped us out a lot before his son took over. Doubt forces you to imagine solutions, to explore other possibilities, other directions. Doubt feeds into dreams."
Tomorrow, perhaps Jacques and Frédéric will be able to raise a toast to their future in one of the little Parisian bars that they both love; or maybe they will just continue on their way, savouring the undeniable aesthetics. "What drives us is the idea of making things together, and making them a success. It's like going down a ski slope covered in powdery snow, then looking back at the marks you've left behind and being able to tell yourself how beautiful they are".
Visit the Courrèges Online Store: courreges.com
Interview: Enrique Nalda
O T H E R S T Y L E I N T E R V I E W S . . .